Plano fertility center address & contact info
Hours and location changes
Starting on May 1, our Frisco, McKinney, Plano and Dallas offices will reopen. We have implemented several new policies, including universal masking, for patient and staff safety.
Please contact Dallas IVF through any of our offices to arrange for either a telemedicine consult or in-person appointment with our physicians. Our primary goal is your safety!
Conveniently located just across the street from Texas Health Presbyterian Hospital Plano, on Communications Parkway 
Serving hopeful parents in Plano, Texas, Dallas and the mid-cities.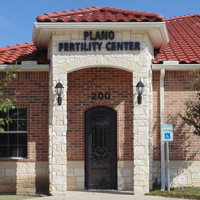 3000 Communications Parkway, Suite 200
Plano, TX 75093
Phone: (214) 225-2057
Fax: (469) 429-4646
Temporary hours of operation
Monday–Friday 8:00 a.m. – 4:00 p.m.
Closed for lunch from 12:00 p.m. – 1:00 p.m.
Dallas IVF's Plano fertility clinic directions
About our Plano fertility clinic
Offering a full-time fertility clinic with an all-female staff, the Plano fertility clinic helps couples and individuals achieve their family building goals. Our doctors and the clinic staff provide extensive experience in clinical care, offering state-of-the art fertility treatments.
Ready to get started with fertility treatment?
Contact us to schedule an appointment at our Plano fertility center.
Our Plano fertility doctors
Dr. Sara Mucowski and Dr. Rinku Mehta provide care at the Plano fertility center. Both seasoned fertility experts are double board certified in reproductive endocrinology & infertility and obstetrics & gynecology. They have a wealth of infertility knowledge and bring a special sense of compassion to their patients: Dr. Mucowski has undergone egg freezing and Dr. Mehta has experienced infertility and treatment.
Meet the doctors at the Plano fertility clinic