McKinney fertility center address & contact info
Directly across from the new Baylor Medical Center at McKinney, on Highway 380 (University Drive)
Serving hopeful parents in North Texas and Southern Oklahoma.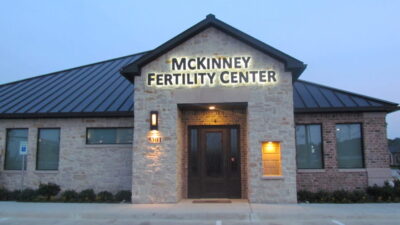 5301 West University Drive
McKinney, TX 75071
Phone: (214) 225-2057
Fax: (469) 219-8201
Hours of operation
Monday–Friday 8:00 a.m. – 4:00 p.m.
Closed for lunch from noon – 1:00 p.m.
Dallas IVF's McKinney fertility clinic directions
About our McKinney fertility clinic
Serving McKinney and the communities of North Texas and Southern Oklahoma, our McKinney fertility center is the city's only full-time fertility and IVF clinic. Our McKinney fertility team has decades of advanced reproductive technology experience helping patients create families. Couples and individuals will find the most comprehensive diagnostic and treatment services provided with understanding and personal care.
Ready to get started with fertility treatment?
Contact us to schedule an appointment at our McKinney fertility center.
Our McKinney fertility doctors
Dr. Dara Havemann is an experienced reproductive endocrinologist serving the McKinney fertility center. As a seasoned fertility expert, Dr. Havemann offers full fertility treatment services, as well as a wealth of knowledge and compassion to patients on the path to parenthood.
Meet the doctors at the McKinney fertility clinic