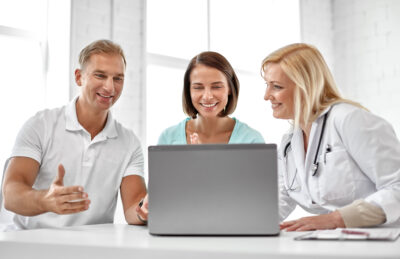 If you're feeling nervous about your first fertility appointment, you aren't alone. Many men and women are anxious before they meet with their fertility specialist for the first time. But visiting our Dallas fertility center doesn't have to be nerve-wracking. With a little planning and preparation, you can come to the appointment feeling confident and ready to make the most of it.
Tips for your first fertility appointment
With these tips, getting ready for your first fertility appointment with our Dallas fertility center can be as easy as 1-2-3:
Prepare. Make sure that you fill out all the forms in the patient portal you before your appointment. You don't want to waste your time with your fertility specialist filling out forms. You should also bring any medical documents related to your and your partner's infertility, any results of previous fertility testing, insurance referrals or authorizations, insurance cards and government-issued ID cards.
Take notes. During your first fertility appointment with our Dallas fertility center, you will receive a lot of information from your physician and other members of our team, including nurses and billing specialists. It can be overwhelming to remember it all, so bring a notebook to keep it all straight or take notes on your smartphone.
Ask questions. Our Dallas fertility center does not offer a one-size-fits-all approach to fertility care, so our team encourages you to ask questions and express your family-building goals. No question is too big or too small – and there is no such thing as asking too many questions. Every member of our team is here to guide you on your journey to bring home a healthy baby.
Take the first step to become a parent
When you schedule your first fertility appointment with our Dallas fertility center, you are taking the first step on your journey to go from patient to parent. Our physicians, nurses, laboratory professionals and office staff are excited to hold your hand as you walk down this path.
Contact us to schedule an appointment at our Dallas fertility center to receive the world-class fertility care you deserve.