Lindsey & Ry failed to conceive after fertility treatments before a fateful Facebook referral led them to Dallas IVF & a rainbow baby (one born after an infant loss)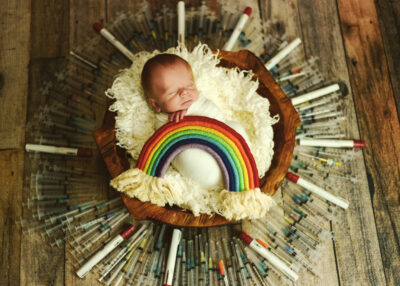 When Lindsey, a nurse, and Ry, a fireman, got married, they knew that starting a family would likely not be quick or easy. Along with getting a later start than some couples, Lindsey knew that her history of polycystic ovary syndrome and endometriosis (two conditions contributing to infertility) might make for challenges.
"We knew it wasn't going to happen overnight and we weren't getting any younger," Lindsey says. "So after trying for a bit, my OB/GYN referred us to a fertility clinic. Unfortunately, we had several setbacks with overstimulation, cancelled and failed cycles."
After many retrieval attempts, the couple eventually was able to get 20 eggs retrieved (17 of which were viable). But after this glimmer of hope, they then had difficulty getting pregnant and maintaining pregnancy. While Lindsey had known for some time that getting pregnant would be challenging, this setback was more of a surprise.
"We had several IVF cycles and multiple miscarriages," Lindsey says. "I never knew going in I would have an issue maintaining a pregnancy. I thought, Oh, I'm going to get pregnant. And we're gonna have a baby. And then we'd get pregnant. And we'd have a miscarriage. So, I never thought about the other side of it. After the second miscarriage, we decided to take a step back to reevaluate things."
While on this break, Lindsey made a fateful discovery: she stumbled on a Facebook support group titled "Braving Infertility Together." The group welcomed all women in different walks on their fertility path: women just starting their journey or who have given up, those who have had multiple miscarriages or in the midst of treatment. The group became a source of not only support and strength, but ultimately, success.
"A lot of the women recommended Dallas IVF and Dr. Ku," she said.
Braving infertility together: sharing strength, support in unique places
The couple decided to reach out to get Dr. Lowell Ku's thoughts on their prognosis. While the group's praises for Dallas IVF led the couple to make an initial consultation, it was their reception that ultimately led them to transfer their embryos and treatment over to Dr. Ku.
"So when we talked to him, it wasn't just, 'Oh let me look at your chart, you're just another number in our queue,'" says Lindsey. "He took the time, that made the difference to us. He took time to listen to us, to sit down and understand what we've been through and what we wanted to do. He made me feel seen."
Lindsey and Ry also felt reassured that Dr. Ku connected with them on a personal level, having gone through fertility treatment himself. "We don't all walk the exact same journey, but he's been on it and he understands the highs and the lows.
As a fireman, Ry is usually in a position to save people, Lindsey adds. "I think he felt a bit helpless because he couldn't fix this. He would sit with me on the floor crying every time we had a negative pregnancy test. He would let me own it and have my moment.
"He was without a doubt my support system and my rock. But it really affected him that he couldn't make it right," Lindsey says.
"I wouldn't be the person I am, our marriage wouldn't be what it was because we really had to rely on each other to get through at all."
The couple's willingness to share the highs and lows of their journey helped give each other strength, while also making them uniquely open to getting strength from others. Their outspokenness meant that others in their network of firemen and friends came to them with their own stories. "They said, 'We felt like we had to be ashamed about it, but y'all talking about it lets us now that it's ok.'"
Devoted to you, dedicated to your success
Contact Dallas IVF today to set up an appointment to discuss your fertility options. Now offering telemedicine virtual consults.
---
A second opinion, genetic testing and a new fertility treatment
The first step Dr. Ku took after taking over Lindsey and Ry's treatment was a full workup including genetic testing, autoimmune testing and evaluation. This was to confirm prior diagnoses given Lindsey's medical history and miscarriages. Thankfully, the genetic testing came back normal.
From there, Dr. Ku was able to see what had already been tried or could be improved upon, including switching up medications, their delivery methods or forgoing some medications all together.
"When we ended up getting to the point that we actually could transfer, we went in our baseline check before we started any other meds and everything was really great," says Lindsey. "And Dr. Ku said, 'You know what Lindsay, let's just see what your body does without any medication.' So I didn't have to do any of the hormones on the last two cycles because he said I think your body wants to try. He wasn't shoving medications down my throat because the textbooks said to – he created a plan catered to me."
Faith in Dr. Ku and his plan of no fertility injections
During her two IVF cycles with Dallas IVF, Lindsey was also struck with the level of care and attention they received from day one.
"In our first appointment, Dr. Ku gave us his cellphone number and said, 'If you need me call me, text me, whatever you need I'm available to you.'" The couple took advantage of that offer, even texting on Christmas Eve after a cycle question. "The support from the doctor himself and the clinic were great – all the ladies are amazing."
While Lindsey at first laughed at the idea of not having hormone injections with her IVF cycle, they decided to have faith in Dr. Ku's plan. Their faith proved out, as their second cycle was a success.
Hopeful for a rainbow baby, but still unsure
When she got the news, she cried. To share the news with her husband, she went out and got shirts for their dogs that say "big sister." His first reaction was surprise but they both still felt a bit of shock.
"Even when we started this last cycle, we were hopeful we would end up with a child but given the track record we weren't sure it'd happen."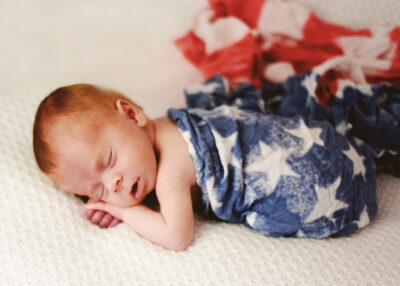 As they learned, getting pregnant is not the ending but just one part of the infertility journey. Lindsey experienced some spotting off and on throughout, and eventually spent her pregnancy on strict bedrest.
At 25 weeks, she started having contractions. Medications helped delay the delivery and buy time. At 37 weeks, they welcomed baby boy Rourke in November 2021. As a healthy baby born after parents experience miscarriage or infant loss, Rourke is what is often called a rainbow baby.
"We cherish every moment with him, every milestone is that much more special to us," Lindsey shares.
Life lessons learned and cherished
"Through the good, the bad, the heartbreaking, it was worth it," Lindsey says. "I'm stronger, my marriage is stronger and the friendships that I've formed through this are stronger."
"I wouldn't be the person I am, our marriage wouldn't be what it was because we really had to rely on each other to get through at all."