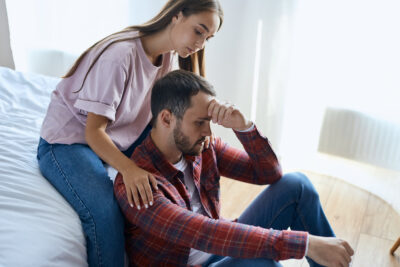 The team at our DFW fertility center knows that Father's Day can be emotional for hopeful parents. Men are too often forgotten when a couple is struggling with infertility, but they face the same desire for children and heartbreak when they receive a diagnosis of infertility.
The weight of infertility can be especially heavy for men during Father's Day – a time when they feel they should be celebrating fatherhood. However, you can take steps to survive Father's Day and infertility with your partner.
Recommendations for dealing with Father's Day and infertility
Everyone is different. One person might find that a slight change of plans helps them cope with Father's Day and infertility, but another person may decide to completely ignore the holiday. Either of these coping strategies – and anything in between – can be healthy and helpful.
The physicians at our DFW fertility center have some additional recommendations:
Planning your day in advance is an excellent way to cope with the negative emotions you might feel on Father's Day. You may want to celebrate with your father or grandfather to take the focus off of children and put it on someone else you love.
Avoiding situations where children are present is recommended for some couples. If the pain of infertility is recent or raw, it might be best to avoid family parties and restaurants where families with children might be celebrating.
Spending time with your partner can help you cope with the pain of infertility. You can go on a hike, cook dinner together or go to the movies. Infertility can be hard on couples, so spending time together has the added bonus of strengthening your bond.
Talking about your feelings can be therapeutic. Many people – both men and women – suffer in silence when it comes to infertility, but there's no need to. You and your partner can draw upon each other for support.
Tips for coping with infertility after Father's Day
The emotional toll of infertility extends beyond Father's Day, so it can be helpful to join an infertility support group. Talking with men and women who are going through similar struggles is an excellent way to work through emotional turmoil while gaining strength and information.
Additionally, if you haven't already partnered with a fertility specialist, you may want to schedule an appointment. In couples where the female partner is under age 35, the hopeful parents should make an appointment after one year of trying to become pregnant. If the female partner is over age 35, the couple should see a fertility specialist after six months.
Contact our DFW fertility center to learn more about coping with Father's Day and infertility – or to schedule an appointment to get started with your fertility journey.