Jennifer & John's road to parenthood was plagued with concerns, but also filled with support from Dallas IVF
When Jennifer, 33, married her husband, John, 45, she just had a gut feeling that getting pregnant may not come easily for them.
Although no one in her family had infertility and John had children from a prior marriage, her instincts told her after seven months of trying they needed more help.
First step: fertility tests
Jennifer decided to consult with her OB-GYN during her yearly visit. Although her doctor initially recommended the couple try for a year before considering fertility treatment, given their ages and history, she opted to complete a blood workup for Jennifer and a semen analysis for John.
"She was comfortable kind of starting to do initial testing and making sure everything was ok – and if the tests came back abnormal, then she could refer us for fertility treatments," recalls Jennifer.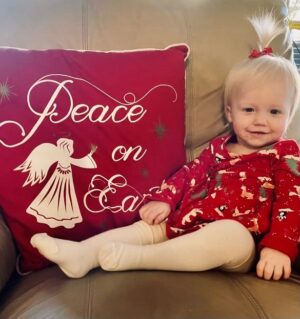 The results came back, showing that Jennifer hadn't ovulated that month and John had mildly abnormal sperm quality, which could be helped with supplements. Although she suspected all along there could be an issue, she was naturally upset with the news.
"And at the time, I was devastated because I knew that was going to make it hard for me to get pregnant. But looking back on it, that was just God opening a door for me to get into fertility treatment because – had that been normal – she [her OB-GYN] would have had no reason to refer me," says Jennifer.
Instant connection with Dallas IVF fertility specialists eases worries
Outside of knowing she would be comfortable with a female doctor, Jennifer didn't know any fertility doctors herself. So heading into the meeting with Dr. Dara Havemann, whom her doctor referred her to, Jennifer had few expectations.
"I knew immediately we just had a good connection," says Jennifer. "She's thorough and patient with you, and there's no such thing as too many questions – she never makes you feel like she's just trying to get you out the door. She'll spend as much time with you as you want."
The response of the entire Dallas IVF team was beyond her expectations. Dr. Havemann herself struggled with fertility, so Jennifer felt she could understand the emotional suffering women can experience trying to get pregnant. She was also impressed with how Dr. Havemann wrote down every important point of the session so Jennifer could take it home to remember the details. "I wish that she was our primary care because she's such a good doctor."
Further testing uncovers endometriosis concerns
Jennifer and John agreed they didn't want to jump into treatment with the most aggressive thing but were also aware of the so-called ticking biological clock.
A deeper dive into Jennifer's medical history showed heavy periods and cramping. Before deciding on a course of treatment, she underwent further testing of her blood and fallopian tubes with a hysterosalpingogram (HSG). This screening procedure helps determine if the fallopian tubes are open, which is required for an egg to be fertilized by sperm. Additionally, an HSG can help determine if the uterine cavity has any defects, including fibroids or polyps, which can cause infertility.
Jennifer's exam was a partial success: they were able to confirm one of her two tubes was open but they found a potential polyp or air bubble there; the second tube couldn't be screened. While the results weren't definite, the couple could still proceed to fertility treatment.
Dr. Havemann noted, however, that while treatment was an option at that time, surgery may still be needed down the road. Based on her history, Jennifer could have endometriosis – plus, there were still the other issues of the untested tube and potential polyp.
A prayerful decision to go with surgery & endometriosis treatment if needed
The couple had a decision to make. Start fertility treatment now or yet further delay the timeline for getting pregnant by having surgery.
"We just prayed and prayed and prayed about it. Our faith is very important to us, and so we just kind of wanted to make sure that through this whole process, we were aligned with God's will," recalls Jennifer. "So we decided, let's just do the surgery, let's take care of multiple issues at one time."
Diagnosis and endometriosis treatment at the same time
While the decision may have been a hard one, it brought good news on several fronts. First, the issue in the one fallopian tube did turn out to be an air bubble, not a polyp. Second, Jennifer did have mild endometriosis (where tissue grows outside the uterus and can interfere with normal conception). Since it was uncovered during laparoscopic surgery, Dr. Havemann was able to provide endometriosis treatment by removing the tissue during the same procedure.
Successful endometriosis treatment also brought further good news: the couple now had a good chance to get pregnant on their own. The couple decided to give themselves three months to try natural conception.
Devoted to you, dedicated to your success
Contact Dallas IVF today to set up an appointment to discuss your fertility options. Now offering telemedicine virtual consults.
---
After endometriosis treatment, mixed emotions with IUI
Following endometriosis treatment and after trying for three months in the summer of 2019 and failing to get pregnant naturally, Jennifer again got her period, marking the third month of trying without conceiving. She set up an appointment to see Dr. Havemann the next day.
Since the couple wanted to start conservatively, Dr. Havemann recommended intrauterine insemination (IUI). In IUI, sperm are placed directly in the uterus to facilitate fertilization. This, along with fertility drugs, can make it easier for sperm to make it into the fallopian tube to fertilize a woman's egg.
After four IUI attempts, the couple began to get discouraged and spoke with Dr. Havemann about their options. They decided to go all in on IUI one last time before moving on to in vitro fertilization (IVF).
To everyone's delight, the latest treatment worked. Jennifer still vividly remembers calling the practice – she couldn't wait for them to call her – to get the test results that she was pregnant.
"I could not even believe it. I couldn't. I wasn't even thinking, and I just started sobbing and just telling them, 'Thank you so much. Thank you so much,'" recalls Jennifer. "I was crying so hard that the nurse started crying."
After trying so hard to get pregnant, that feeling of unbelievability carried through till the birth of their baby, Ainsley.
"I remember during the first couple of weeks telling my husband that I don't feel pregnant. And bringing her home – it was so surreal. I kept thinking, she's mine. I get to keep her. It was this strange thing because I always wanted to be a mother but I could never envision myself actually getting to that point."
Her advice about fertility treatment expectations
"I wish I knew from the beginning that you have to remove yourself from any expectations," admits Jennifer. "You don't know how you're going to react to certain issues or procedures … you don't know if it's going to be more hurtful for you to talk about your journey or to keep it in. You don't know if you're gonna feel alone or feel like nobody will leave you alone. And it's okay to feel any of those ways."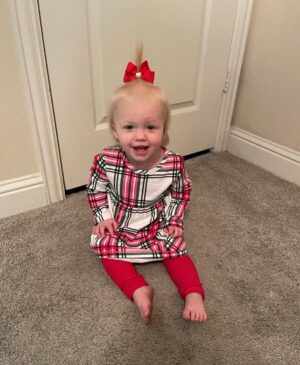 She now knows that it's okay to be upset, to not want to talk or to want to talk.
"You just need to do what feels right for you in the moment. But you truly are not alone, even when you feel like it. I just wish people would give themselves more grace, and I wish I would have given myself more grace."
At the end of their long journey to become parents, the couple finally did find that grace and sense of reality – and then the family of two truly become a family of three.