From breast cancer diagnosis to embryo freezing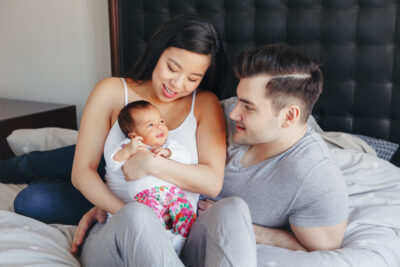 Shelly and her husband's embryo freezing journey started with a breast cancer diagnosis. "I switched jobs in 2013 to find a better work/life balance because we wanted to start a family. During a visit to my obgyn, my doctor found a lump in my breast, and testing revealed that it was breast cancer," Shelly says.
The diagnosis was overwhelming. According to Shelly, "I was young and healthy, with no family history of breast cancer. I had so many questions and wondered if I was going to die. I started writing my will as I prepared to meet with my surgeon and oncologist."
The surgeon recommended lumpectomy, and the oncologist recommended chemotherapy and radiation. "I asked my oncologist if I could do the surgery, have a baby and then do chemotherapy and radiation. He responded by asking if I wanted my child to grow up without a mother, which stuck with me," Shelly remembers.
After deciding to move forward, she researched fertility preservation because she knew that cancer treatment could harm her eggs. She selected embryo freezing, and her obgyn referred her to DFW fertility specialist Lowell Ku MD in October 2013.
Starting the embryo freezing process
Shelly's oncologist told her that she had a month to undergo embryo freezing with the DFW fertility specialist because he would begin chemotherapy in December. According to Shelly, "It was a stressful month, but Dr. Ku was so calm and reassuring. I was fortunate to have so many great people at Dallas IVF guiding me through the process."
After embryo freezing, she and her husband ended up with four high-quality embryos to serve as the couple's "insurance policy." She began chemotherapy in December 2013 and radiation in May 2014. "I was nauseous and I lost all my hair, but I never missed a day of work because I didn't want to sit at home and worry or feel sad," she says.
Once Shelly completed chemotherapy and radiation, she started taking Tamoxifen. She needed to take the medication for five years, so she decided to visit her DFW fertility specialist again. According to Shelly, "I started to worry about being an older mother because I couldn't get pregnant while taking the medication, so we started researching surrogacy. We were very lucky to find a surrogate located in Dallas who was so selfless and kind. We started the process in July 2014."
The surrogacy process was a success. Dr. Ku transferred a single embryo in September 2014, and the couple's son was born in June 2015.
Shelly was grateful for her beautiful son and the way Dr. Ku treated her throughout the surrogacy process. "He was very sympathetic to our family, and he made me feel like I was part of the pregnancy, even though we used a surrogate," she says.
Having a second baby through embryo freezing
Shelly was thrilled to be a mother, but she wanted to give her son a sibling. "I grew up as an only child, and I didn't want that for my son. I wanted him to have someone to play with and grow up with," she explains.
After visiting her oncologist, she received permission to stop taking Tamoxifen temporarily, and she asked her obgyn about conceiving naturally. However, her egg supply was very low, so she and her husband returned to their DFW fertility specialist in March 2017 to use their "insurance policy."
After a single embryo transfer in May was unsuccessful, Shelly took a few months to focus on her health and to relax. She returned in September 2017, and she became pregnant with her second child. According to Shelly, "We are beyond thrilled about the great news, but most importantly we are happy that we decided to freeze our embryos."
Fertility advice after a cancer diagnosis
According to Shelly, "When you're diagnosed with cancer, you're probably wondering if you'll survive, but you can't be paralyzed by fear. You need to think about things like your future fertility and take steps to protect it. You don't want to live with regrets. My motto is to prepare for the worst but expect the best and live for the moment."
To protect fertility, she suggests visiting her DFW fertility specialist. "Dr. Ku made me feel like we were a team, and he never pressured me. He always made me feel like I had a choice, which is nice when you're facing cancer. The journey was hard, but I'm thankful that I got to meet so many wonderful people. I wouldn't be where I am today without their support and the support of my husband."
If you would like to learn more about embryo freezing or other forms of fertility preservation, contact our DFW fertility center. Our team can fast-track treatment for patients who have been diagnosed with cancer.