The information below was updated March 25, 2022
Coronavirus procedures
Dallas IVF is pleased to announce that starting on March 25, 2022, we suspended our previous COVID-19 policies!
What does this mean for our patients and visitors?
Masks are not required.
We no longer need to take temperatures or have patients complete the health questionnaire prior to their appointments.
Patients are allowed to bring a support person of their choice to their appointments. The support person no longer is limited to individuals within the same household.
While patients can now be seen in office for appointments, we strongly encourage patients to continue to utilize telemedicine appointments as often as possible.

In-office appointments are available by request.
The information below was updated December 16, 2020
Coronavirus vaccine
Now that the COVID-19 vaccine is here, what are pregnant women and women trying to conceive supposed to do?
---
Dr. Mucowski offers insightful information regarding the new COVID-19 vaccine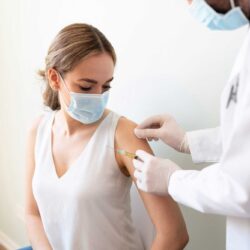 Dr. Sara Mucowski discusses the new COVID-19 vaccine and important considerations and frequently asked questions for women who are pregnant or trying to get pregnant.
The information below was originally posted March 26 and updated April 30, 2020
We're reopening on May 1
Dallas IVF is pleased to announce that starting on May 1, 2020, we will reopen our Frisco, Dallas and McKinney clinic locations.
New appointment policies
During the ongoing coronavirus (COVID-19) pandemic, Dallas IVF is committed to the health of its patients and staff. To ensure patient and staff safety, we will be implementing a few new policies to reduce the number of people in our office and comply with social distancing and stay at home orders.
Universal masking: all employees and patients are required to wear a mask; due to local shortages in face mask supply, patients are asked to supply and wear their own masks.
Temperature check: All patients and employees entering our clinics will have their temperature taken by a Dallas IVF staff member.
Only patients will be allowed in for appointments: Following medical guidelines to maintain social distancing and limit exposure risk, unfortunately no visitors will be allowed in for the appointment; this includes partners, children, family and friends.
Social distancing measures while waiting for your appointment: Patients are asked to practice social distancing while in the waiting rooms.
Telemedicine: To limit the need for in-person contact, all new patient appointments and follow-up visits will be telemedicine appointments.
COVID-19 testing: All patients undergoing IVF or a frozen embryo transfer (FET) will be tested for COVID-19, even if they don't have symptoms.
Cancellations
Due to safety concerns, any treatment cycle will be immediately canceled in the event of:
A patient showing COVID-19 symptoms, including but not limited to fever, cough or shortness of breath.
A patient testing positive for COVID-19.
A change in social or government situation in which Dallas IVF is not permitted to proceed with the cycle as planned.
In the event that a planned cycle is canceled, services already rendered will not be refunded.
Our family devoted to yours
We are committed not only to helping our patients get pregnant, but also to helping create safe pregnancies and healthy babies. We know putting fertility plans on hold has been difficult. Thank you for your patience and help in flattening the curve of this epidemic so as to not overload our healthcare system and reduce sickness. We are delighted to resume treatments and wish you all continued safety and good health.
– The team at Dallas IVF
Telemedicine appointments
We're continuing to utilize telemedicine consultations for both new and existing patients! You can use your phone, tablet or computer to connect to your healthcare provider for your virtual visit.
Hours and location changes
Starting on May 1, our Frisco, McKinney, Plano and Dallas offices will reopen and resume their normal hours of operation.
Please contact Dallas IVF through any of our offices to arrange for either a telemedicine consult or in-person appointment with our physicians. Our primary goal is your safety!
More information on the coronavirus