IVF was the best yes for these expecting mothers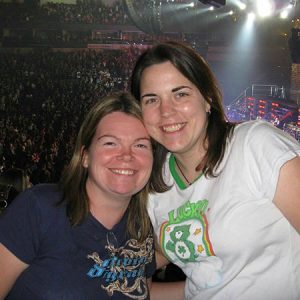 Of all the obstacles they faced, turns out IVF was the easiest to overcome. Not many couples can say this about the advanced reproductive technology that Dallas IVF provides from its McKinney, Frisco and Plano fertility centers.
Ashley and Jennifer (Jen) made the decision to pursue IVF after 10 years of dreaming of a family, but postponing it until laws, fertility coverage and immigration visas aligned with their goals.
Jen is Canadian and Ashley was born and reared in Dallas. They met online and their friendship evolved into something more after Jen visited Ashley in Texas. A student visa allowed the couple to stay together as they watched and waited for the Defense of Marriage Act (DOMA) to be overturned.
They eloped to NYC in 2013 and got married in the Manhattan city clerk's office. After a year in "pending" status, Jen's green card finally arrived in March 2016. Two years from now she will apply to be a U.S. citizen.
All they were hearing was "no"
"We always wanted a family," Ashley said. "Unfortunately, in Texas, all kids under six are adopted out through private agencies. For many of those agencies, we were either not allowed to apply or would have been rejected as potential parents."
Thankfully, Ashley works for a global consulting firm that offers inclusive and comprehensive insurance benefits that as of 2016 cover infertility and IVF.
The insurance company wanted the couple to try six months of IUI first. "We learned very quickly that you have to advocate for yourself," said Jen. Despite obstacles discouraging them from moving forward with IVF, Jen and Ashley secured their benefits.
Unconditional acceptance, and IVF, at a Plano fertility center
A church bulletin directed Jen and Ashley to a Path2Parenthood seminar at the Cathedral of Hope in Dallas where Sara Mucowski, M.D., was presenting. They were encouraged by how accepting Dr. Mucowski was at the seminar and this feeling was validated with the first phone call to Dallas IVF.
"Even though it was farther to drive to Plano from Dallas, we really connected with Dr. Mucowski," Ashley said. "We felt accepted, confident and encouraged from the first phone call, and they never made us feel different from any other couple going through treatment."
IVF with donor sperm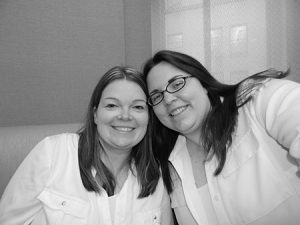 Jen's and Ashley's first baby was conceived with Jen's eggs and donor sperm, with Jen carrying the baby. Ashley hopes to use her fertility benefits this summer to freeze embryos using her eggs and the same donor's sperm so that their children will be biologically related should they be successful.
Jen plans to carry for them again once she is medically cleared after giving birth as Ashley is a Type 1 diabetic and not in a condition to safely carry a child at this time. The couple paid out of pocket for sperm donor services with California Cryobank, an agency they connected with at Path2Parenthood.
"Finding a sperm donor was literally like shopping on Amazon," laughs Ashley. "We selected ethnicity, eye color, height … filtering down until we found the one we wanted."
Step by step, a family grows
"Dr. Mucowski was really awesome," said Jen, who was 38 at the time of IVF. She said that her Plano fertility specialist explained how IVF works, detailing what to expect and the obstacles they could face. "Everyone took their time – with every phone call, email or office visit – to make sure we never felt rushed or run out of the office," added Ashley.
A customized calendar helped Jen and Ashley manage ovarian stimulation, which resulted in 13 eggs and two fertilized embryos by Day 6. Of these, preimplantation genetic screening (PGS) confirmed that only one was viable for transfer. Because they had frozen the embryos, they were free to wait until test results were in before making plans for the embryo transfer in late August.
It was a "pretty awesome" day when Dallas IVF called Ashley and Jen with good news. After a smooth pregnancy, Jen is due with a baby girl around Mother's Day.
Advice for parents-to-be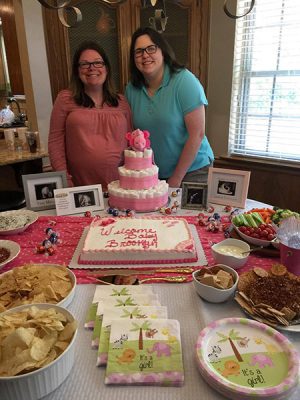 Jen offered some advice to maximize chances for conception. "Don't just wonder – start the process. Talk with Dr. Mucowski, or any doctor, because they know more about the stats and can walk you through your options. Dr. Mucowski was very clear about what to expect at our age."
Ashley added: "Don't let the internet overwhelm you. Spending too much time online can make you discouraged and stressed. Take the first step and talk to [a fertility specialist]. They will tell you the facts and give you options you may not even be aware of."
To arrange for a consultation with Dr. Mucowski or the expert and inclusive team at our Frisco, McKinney or Plano fertility centers, please contact us here.
UPDATE: "Our daughter, Brooklyn, was born via c section weighing 7 lbs 6 oz and 19 3/4″ long. She is a healthy, beautiful, baby girl and we could not be happier! " Ashley and Jennifer