How we're improving IVF success for hopeful parents
Improving IVF success is important for every member of the Dallas IVF team. Our fertility specialists are experienced and highly trained and our Dallas fertility center features state-of-the-art equipment and facilities. Our physicians perform comprehensive testing to make an accurate diagnosis the first time and develop the most-effective fertility treatment plan for each patient who walks through our doors.
Our Dallas fertility center also has another tool that is designed to improve IVF success for hopeful parents – Univfy.
How are we improving IVF success with Univfy?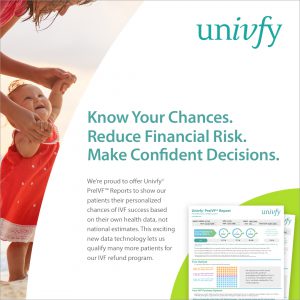 The team at our Dallas fertility center knows that in vitro fertilization (IVF) is one of the most effective fertility treatments available. Now, with help from the Univfy PreIVF Report, our fertility specialists can predict a patient's chances of IVF success.
Each report uses a patient's reproductive data to accurately predict their probability of IVF success. Univfy looks at many factors, including age, body mass index (BMI), ovarian reserve test results, semen analysis and clinical diagnoses. Using predictive technology from Stanford University,
Univfy compiles this information to develop a personalized report for each patient.
Dallas IVF offers this report to our patients free of charge after their diagnostic workup because our patients deserve best-in-class technology and information about their odds of IVF success. The data from these reports are one of the ways Dallas IVF is improving IVF success.
The Dallas IVF Refund Program is another advantage of Univfy
Our Dallas fertility center offers the Dallas IVF Refund Program to more than 80% of our patients. The program helps patients save precious time and money, while improving their chances of having a baby by helping them afford multiple cycles of treatment. With a refund program, patients who qualify (as determined by Univfy) will receive a refund if they are unable to conceive after three cycles of IVF.
More than 50% of patients have higher probabilities of IVF success than estimated on typical age-based analysis. With the Univfy PreIVF Report, patients know their probability of success in the first, second and third IVF cycle so that they can choose the financial plan that is best for them. Dallas IVF offers the same refund price for all their patients who qualify, no matter their clinical diagnosis.
Contact us to schedule a consultation and learn how our Dallas fertility center is improving IVF success with tools like Univfy.